¡Haz que la cojinería de tu coche  luzca  como nueva una vez más!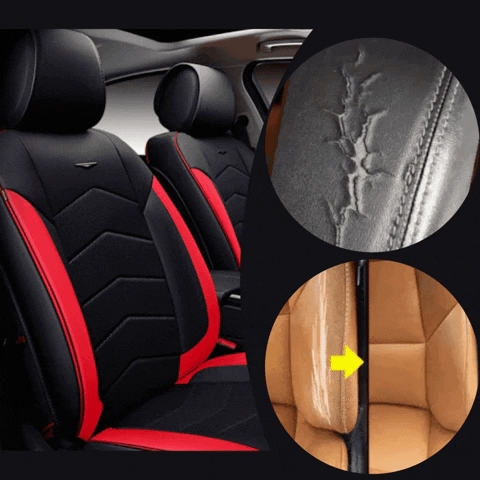 Base Restauradora de Cuero RLAN™ es una poderosa crema reparadora de cueros la cual al entrar en contacto directo en el  desgaste repara de manera instantánea, sin importar que tan grave pueda parecer el daño.
Gracias a su fórmula RLAN™ actúa de manera efectiva sobre superficies rayadas, peladas y dañadas haciendo que luzca con acabados como nuevos, intactos y perfectos.
Nuestra Base Restauradora de cuero RLAN™ es la crema reparadora usada por excelencia en las grandes industrias del cuero la cual llega ahora a su alcance  para rejuvenecer y mejorar notoriamente la apariencia desde la cojinería del coche hasta aquellos muebles, bolsos y zapatos que tanto te gustan.
Nuestra Base Restauradora de cuero RLAN™ No requiere pericia para la aplicación, solo basta con colocar una cantidad generosa de nuestro producto sobre aquella superficie de cuero que deseáis mejorar para hacer de esta un articulo nuevo.
Beneficios
Poderosa fórmula

 RLAN

™ que repara al instante 

Crema renovadora de larga duración la cual  garantiza una vida útil prolongada en todos aquellos artículos de cuero con los que entra en contacto.
Precio asequible que no se compara con el costo de reparación directa que implica llevar los artículos de cueros a los especialistas en la materia.
Fácil de usar y sin químicos que pueda afectar su piel
No deja rastros de olor ni contiene sustancias perjudiciales para la salud
Altamente útil y al alcance de tu mano para poner como nuevo la tapicería de tu coche
Amplio uso ya que es ideal para Todos aquellos artículos de cuero
Once we receive your order, it will take 1 to 3 business days to be processed, after that, the delivery could take between 7 to 10 days to reach your address, which could vary due to the current situation of COVID -19
5 great reasons to buy here:
| | | |
| --- | --- | --- |
| |     | Customer service first.You will always find someone here to get in contact to resolve all your doubts. |
| | | Transparency with our clients is the most important thing. We always communicate with the truth. |
| | | If you are not satisfied for any reason, let us know and we will do our best to get it right again and meet with your expectation level. |
| | | Your money is safe since we have an SSL certificate that gives you high security level in your purchase, and guarantees the return back of your money in case you want it back. |
| | | We take care that the shopping experience is pleasant, easy and safe for you. |
The satisfaction of our clients is essential to us. For this reason we offer 14 days after receiving your order for returns and customer service from Monday to Sunday.
If you have any problem, doubt or query about your order, do not hesitate to contact us through our email heidy.pamplona@adventunm.com
Your payment information is processed securely. We do not store credit card details nor do we have access to your credit card information as this store is protected with an SSL security certificate.