Estas nuevas y revolucionarias Gafas Polarizadas Vision HD diseñadas con tecnología FCHD™ reaccionan de manera inteligente e instantánea a las condiciones de luz sea sometida, brindando los niveles de claridad y visibilidad favorables y saludables para los ojos.
¿Por qué es una de las gafas más integrales del mercado?
Potente tecnología Fotocromática capaz de adaptar la luz de su lente en cualquier entorno y tipo de clima, entendiendo entonces la adaptabilidad instantánea como la capacidad de convertir el lente de oscuro a claro y de luminoso a luz moderada.
Poderosa protección UV400 lo suficientemente idóneo para bloquear hasta el 100% de los dañinos rayos solares que irradian el ambiente.
Vasto diseño polarizado que reduce el destello y reflejo de las superficies como el agua, la nieve y el vidrio conservando su color real.
Definición HD que garantiza una visión clara en la noche, en días soleados y nublados.
Marco y lentes Indestructible diseñado con aluminio de magnesio ultraligero extremadamente duradero además de aportar estilo.
Excesivamente confortable por sus brazos y almohadillas nasales en siliconados adaptables en todas las formas de cara.
¿Cómo funciona tan potentemente?
Nuestras Gafas Polarizadas Vision FCHD™  están construidas con lentes fotocromáticos los cuales alcanzan su propiedades fotocromáticas mediante la incrustación de haluros de plata microcristalinos (cloruro de plata) en las lentes.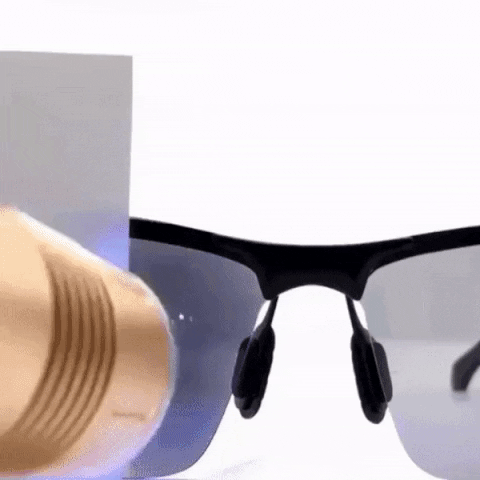 Los  lentes de nuestras Gafas Polarizadas Vision FCHD™  se oscurecen cuando se exponen a la luz ultravioleta de la intensidad presente en la luz solar, pero no en la luz artificial.
En presencia de luz UV-A, los electrones del vidrio se combinan con los cationes de plata incoloros para formar plata elemental y debido a que la plata elemental es visible, las lentes se oscurecen.
Nuestras Gafas Polarizadas Vision FCHD™ están diseñadas con lentes polarizados, material que reduce la presión en los ojos aumentando el confort visual avivando drásticamente su claridad reduciendo todo tipo de reflejo perturbador.
Nuestras Gafas Polarizadas Vision FCHD™ contienen protección UV400 capaz de bloquear el UVA, UVB y UVC estos considerados como los 3 tipos de rayos más perjudiciales para la salud visual. Optimizado para la protección visual.
Once we receive your order, it will take 1 to 3 business days to be processed, after that, the delivery could take between 7 to 10 days to reach your address, which could vary due to the current situation of COVID -19
5 great reasons to buy here:
| | | |
| --- | --- | --- |
| |     | Customer service first.You will always find someone here to get in contact to resolve all your doubts. |
| | | Transparency with our clients is the most important thing. We always communicate with the truth. |
| | | If you are not satisfied for any reason, let us know and we will do our best to get it right again and meet with your expectation level. |
| | | Your money is safe since we have an SSL certificate that gives you high security level in your purchase, and guarantees the return back of your money in case you want it back. |
| | | We take care that the shopping experience is pleasant, easy and safe for you. |
The satisfaction of our clients is essential to us. For this reason we offer 14 days after receiving your order for returns and customer service from Monday to Sunday.
If you have any problem, doubt or query about your order, do not hesitate to contact us through our email heidy.pamplona@adventunm.com
Your payment information is processed securely. We do not store credit card details nor do we have access to your credit card information as this store is protected with an SSL security certificate.