Facilidad y rapidez representadas en una bobina
Nuestra potente Bobicar58T es una bobina que hace que su carrete de pesca e hilo roten de manera simultanea evitando cualquier tipo de enredo u holgura que habitualmente se presentan con otros sistemas de bobinas del mercado.
Principales atractivos
Es una herramienta inteligente optimizada para enrollar rápido y fácil en un carrete vacío y almacenar.

Contiene un rango de sujeción de carreta de 0- 65mm

Bastante liviano representando un peso de tan solo  0,25 kg.

Perfecto para enrolladores pequeños y grandes  

Diseño compacto con marco de 100% grafito de alta resistencia que facilita el desensamble de la misma.  

Capacidad de sostiener múltiples carretes.

Ideal para trenzas o Mono/Nylon

Producto previamente testeado y avalado por pescadores experimentados.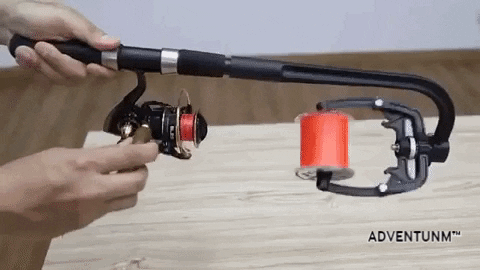 Modo de uso en carretes giratorios:
Primero ate un hilo en el carrete.
Coloque el carrete en el mango, seguido del carrete de hilo en el rotor.
Afloje la tapa de la rosca superior hasta cuando el sistema de rotación pueda voltear por sí mismo.
Comience a enrollar la línea en su carrete.
Modo de uso en carretes BaitCasting y Trolling:
Primero ate un hilo en el carrete.
Coloque el carrete en el mango, seguido del carrete de hilo en el rotor.
Comience a enrollar la línea en su carrete.
Indicaciones importantes para el uso inicial de nuestro Bobicar58T:
Apriete la tapa de rosca superior y mantenga el rotor paralelo al bastidor antes de cargar el carrete del hilo en el rotor.
Ajuste la perilla del medio de acuerdo con el ancho de su carrete de hilo para obtener la tensión adecuada.
¡El carrete de pesca y el sedal de pescar de la foto no están incluidos en el paquete!
Evita los productos de imitación del mercado. Nuestro Bobicar58T™ está hecho con materiales de alta calidad, fuertes y probados en el campo de pesca que aseguran su duración en el largo tiempo y capacidad para jornadas exigentes.
Once we receive your order, it will take 1 to 3 business days to be processed, after that, the delivery could take between 7 to 10 days to reach your address, which could vary due to the current situation of COVID -19
5 great reasons to buy here:
| | | |
| --- | --- | --- |
| |     | Customer service first.You will always find someone here to get in contact to resolve all your doubts. |
| | | Transparency with our clients is the most important thing. We always communicate with the truth. |
| | | If you are not satisfied for any reason, let us know and we will do our best to get it right again and meet with your expectation level. |
| | | Your money is safe since we have an SSL certificate that gives you high security level in your purchase, and guarantees the return back of your money in case you want it back. |
| | | We take care that the shopping experience is pleasant, easy and safe for you. |
The satisfaction of our clients is essential to us. For this reason we offer 14 days after receiving your order for returns and customer service from Monday to Sunday.
If you have any problem, doubt or query about your order, do not hesitate to contact us through our email heidy.pamplona@adventunm.com
Your payment information is processed securely. We do not store credit card details nor do we have access to your credit card information as this store is protected with an SSL security certificate.